We are happy to announce the Grepolis Player Council!
Starting July 18th 2017, every player from every corner of our international community will get the chance to apply for the Grepolis Player Council, representing players of their language version, the international community and the player base as a whole.
Eight years after the initial release of Grepolis, we are confident that the game is in a pretty good spot overall and we now want to focus more on improvements to existing mechanics, events and features. With this in mind, we would like to give our players a better chance to provide input and make suggestions, to get into more direct contact with us as the developers of the game, and to become another panel for professional and active feedback in addition to our Community Management teams and partners inside and outside of InnoGames.
We already have dedicated and highly motivated Community teams in place all over the world, who stay in close contact with our players and regularly pass on any wishes and concerns they come across on our official channels (like tickets, forums, Facebook etc). Nevertheless, we believe that no one has a closer relationship with other players than the players themselves. Plus, in addition to our official community channels, a lot of things happen within alliances and on the battlefield that we may not even be aware of. Veterans of the game can oftentimes tell the craziest (and funniest) stories which would in all likelihood be told very differently if they were ever to be shared publicly in our official channels.
This is why we would like to reach out to our players and invite them to become part of our feedback procedure. We also hope to share some insights into the thought processes that go into game design and development, with the goal to provide a better understanding for why certain decisions are made, some of which can then be communicated to all the other players of Grepolis.
Would you be interested to be a part of this project? Read on to learn more about the Grepolis Player Council!
The Grepolis Player Council
The player council consists of 3 seperate entities, where each has special tasks and privileges associated with them.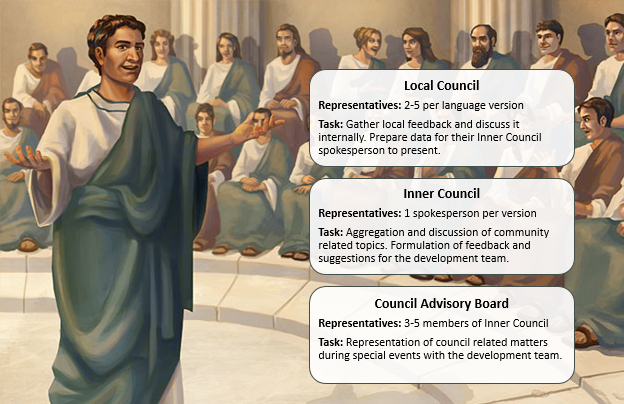 The Local Council
Each member of this council will be elected by local players of his/her language version. Consequently, they first become a member of their local council, e.g. for the French market.
A local council consists of up to 5 players and will discuss matters of their own language version. They will also decide on a spokesperson (and a substitute) who will then represent their language version in the Inner Council.
The Inner Council
The Inner Council can be viewed as a kind of international committee, where the representatives of all Local Councils gather. This is the place where the spokespeople of each language version will discuss various topics with each other to exchange ideas and concerns and to prioritize suggestions. Ideally, the members of the Inner Council will come up with a more global opinion on matters and with broadly accepted proposals, which can then be communicated to InnoGames.
Council Advisory Board
The Inner Council selects up to 5 members who will be in direct contact with the development team of Grepolis. The members of the Advisory Board will forward the suggestions and ideas the Inner Council has worked out and may be invited to join special feedback sessions with the development team.
Player Council members are… 
Community members who have been elected by fellow players to represent their ideas and opinions about Grepolis
Volunteers that are in no way, shape or form employed by or affiliated with InnoGames
Regular players who maintain an active game account without any special powers or perks associated with their Player Council membership
Part of the Player Council…

for a period of six months
eligible to be re-elected for another term
not re-electable for a third consecutive term without a break of at least six months
Requirements for Candidacy
Reached legal age of majority in their country of residence (18/21)
Owner of an active game account and been playing for more than 3 months. Sufficient activity to be determined at discretion of InnoGames Community Management
Willing to accept the Privacy Policy for Player Council members to become eligible for Inner Council and Council Advisory Board duties
Good English language skills preferred (required for Inner Council and Council Advisory Board duties)
Additionally, we recommend each candidate to outline any previous affiliation with InnoGames (e.g. as a member of the support team) in their introduction to provide for best possible transparency and trust within the player base.
Candidacy may be rejected and/or Council membership terminated in case a serious violation of InnoGames terms & conditions, game rules, privacy policy or other misconduct is found.
Principles
We expect each council member to comply with the following principles. In turn, tools will be made available to them which enable them to perform their voluntary efforts for the community.
The Player Council as a whole shall… 
Include 2-5 members per language version
Consist of up to 23 representatives and their substitutes for the Inner Council
Make sure that each market is represented, even if no local representatives were found for the respective term (ideally through beta)
Beta representative shall listen to all comments made on beta forums, no matter which language version the respective player might be coming from originally
Provide constructive feedback and professional input on current features, development priorities and potential plans for the future
Local Council members shall… 
Represent their local community, listen to the fellow players of their language version and, if possible, document the best suggestions and major concerns they come across
Act as role models in the game itself as well as on any community platform (e.g. forums, Social Media channels etc.). A professional and constructive approach towards their assignment is expected at all times, not only in discussions within the Player Council and with employees of InnoGames
Actively participate in the Player Council's affairs during their term (contribute to discussions, provide feedback in a timely manner etc.)
Assist the Inner Council and the development team by providing feedback on existing and upcoming or planned game elements
Play an active role in community discussions and educate players about things that are happening in the Player Council (e.g. by preparing regular reports in cooperation with their Inner Council representative); this is of course subject to the confidentiality obligations as agreed with InnoGames in the Privacy Policy agreement
Actively play the game during the course of their membership
Not receive any special powers in the game. Local Council members should not have any privileges compared to other players
Provide a valid e-mail address in their forum profiles
Appoint 2 members (one spokesperson, one silent substitute) to represent their market in the Inner Council
Be provided with…

a private discussion area on their local forums
Community Management assistance if required, and/or
a special forum title to be easily recognizable and addressable by fellow players
Inner Council members shall… 
Be able to communicate in English (both in writing and verbally), as topics on this level will be discussed in English
Nominate 3-5 (potentially rotating) members for the Council Advisory Board
Council Advisory Board members shall… 
Participate in select, special events initiated by InnoGames (e.g. Skype calls, an invitation to InnoGames' offices or other (expenses will be borne by InnoGames when the event has been approved)), and
Be provided with contact information to get in touch with members of the Grepolis development team and, if applicable, other relevant InnoGames employees
---
FAQ 
How can I apply for the Player Council?
If you meet all requirements mentioned above and are willing to represent your language version, you can announce your candidacy in the designated thread of your local forums. Simply create a post with a short description of yourself and publish it before the given deadline. Any eligible applicants will then be listed as potential candidates on the forums and in the in-game voting.
How many members will the player council have?
That depends on the number of players volunteering for this project. Two to five players can be elected per language version, meaning that the Local Councils combined cannot have more than a maximum of 115 elected members at any given time (23 versions represented by 5 players each). However, we are aware that some countries may not be able to send the maximum number of representatives, so the overall number may vary with each term.
For the Inner Council we have a set number of 1 representative and 1 substitute per version, so a total of up to 23 "vocal representatives" and 23 silent deputies, who may read along and keep themselves informed but may not join the discussions actively to avoid unnecessary chatter.
The Council Advisory Board will consist of 3-5 members of the Inner Council and may be rotated over the course of the term, e.g. to have 5 members join one special event and 3 other members join another. However, this decision is solely made on the Inner Council's discretion.
How many consecutive terms can a council member be elected for?
Each council member is elected for 6 months. Their membership can be extended if they are re-elected for a second term. A third consecutive term in direct succession is not possible, because we also want to give other players the opportunity to join. However, after a break of at least 6 months (1 term) they may apply for candidacy again.
Can a single candidate run for a post for several language versions?
Although candidacy is open for all active players of the respective language version, each candidate should choose one language version to represent. Dual candidacy is only possible for one language version and beta, it will however still only be possible to take up one position. For the other version, a runner-up candidate will take the position. If dual candidacy is declared, we will add a disclaimer to the respective candidate's profile on the voting page.
How can I identify candidates that may have had previous affiliations with InnoGames?
Although we do believe that there should be no bias associated with previous (volunteer) work for InnoGames, we do recommend that each candidate states their previous involvement with such activities so that other players know and can make better judgements regarding their experience. If anything, previous involvement with InnoGames shows their dedication to the game, given that they used their spare time to do something for the community and help other players.
Can current team members (forum moderators, supporters, wiki admins) apply for the position? 
No. Seen as current team members are in direct contact with InnoGames through their supervising Community Managers, they can already have their feedback forwarded to us. Therefore any player council duty is reseved solely for players with no current affiliation.
What happens if we cannot find enough candidates for our language version?
In the unfortunate event that a language version cannot find at least two candidates to represent them, players of that language version can still participate in discussions on the beta forums and shall be represented by council members for the beta version of the game.
What happened to Grepolis United and the Beta Focus Group? Isn't a Player Council a similar approach?
In 2013 we started a project to be in more frequent contact with our player base – Grepolis United.
In addition to this project, several smaller initiatives were launched, including the Beta Focus Group. Some of these initiatives are still being used today, such as the DevBlog. Furthermore, the development team aims to include at least one community request in every update and follows a rule which stipulates that a certain (low) number of non-critical bugs should not be exceeded before an update is released.
However, several important aspects of these projects were started under different circumstances and by different teams and eventually slowed down to a point where they were no longer actively pursued, mainly due to the fact that the game team could not keep up with these time consuming projects any more. With the new Player Council we wish to start a fresh attempt with a different approach, keeping the current staffing situation, development focus and overall possibilities in mind. We hope that the new Player Council will successfully continue the tradition and legacy of Grepolis United and all the positive elements it has brought to the game and to you, our players.
Do Community Managers not already fulfil the role of Inner Council and Council Advisory Board members?
Yes and no. Community Managers have insight into our official communication channels, so they pretty well know about the ideas, concerns and problems of players who contact them in a more personal manner, e.g. via support tickets or private messages on our social platforms. They collect your feedback and communicate it in regular reports to our development team.
We believe a Player Council can act very similar, but may also represent the player base in a slightly different way. Players who do not have any official position with InnoGames potentially look at certain ideas or issues concerning the game from a different angle. They are usually very active and aware of things that are not necessarily shared openly in our communication channels and/or with official representative of InnoGames and can therefore help us getting a better idea of what is going on by sharing their own experience with us.