Dear Grepolis fans, as the month of June is almost over, and summer is visiting even the usually-cold Hamburg, we are bringing to you another community update. Enjoy reading!
Summer Grepolympia
On June 24th, another edition of Grepolympia started on all our language versions so we thought it is a good idea to mention our event 'skinning' method. We have 3 different versions of this event: Summer Grepolympia, Winter Grepolympia and the newest addition: Grepolympia – Greek Cup. Essentially, the main mechanics of the event are the same, but they differ when it comes to graphics and rewards that can be won in it. This allows us to re-use types of events that players like, without making the game too monotonous.
Did you know that we actually use the same system in other events too? For example: both Nature's Wheel of Time and Tyche's Advent Calendar are based on the same mechanics, as well as Trial of the Slingers and Spartan Assassins.
How do you like different variations of our events? Which are your favorite and why?
Game improvements
With version 2.189, we made a small change to the Cave Overview – it is now possible to fill all the caves with one click. However, we already received some great feedback on how we could improve this feature, so we may be making some small changes in this window again in the future!
With versions 2.190 and 2.191 we added to the game changes, which should help you keep better overview on your cities and trades. We've added trade activity to World Wonders and the Gold Exchange to the Trade tab in reports, as well as new Cities and Cultural level indicator to the city list part of the main UI. Now you can check how many cities you can still conquer with one glimpse at the screen.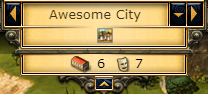 Let us know in the comments how you like the latest changes in the game!