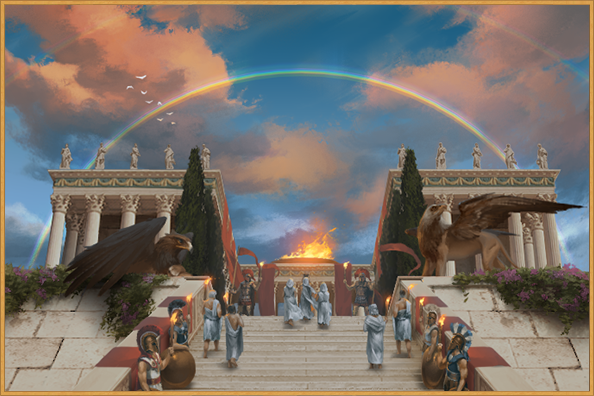 Hello players. In this year's Community Preview, we announced our intentions to make some balancing changes to World Wonders and Olympus. We'll cover some of the Olympus changes in a post in a few days, as this one is mostly dedicated to World Wonders. However, as a sneak peak, we'd like to let you know that yes! We're working on implementing Revolt on Olympus. With that out of the way, lets take a look at what's coming soon with World Wonders (as well as one change which affects Domination too).
Firstly, we'd like to outline a timeline of our plans for this rebalancing. We intend to release a new World Wonder world on Beta in the latter half of November. We'll use this world to gauge any technical changes we need to make, but also, to gather some of your feedback, and see if we need to make tweaks to things before the live release. We intend to release our first rebalanced World Wonders worlds in January 2022, but, of course this entirely depends on how things look on Beta.
So the first obvious question we want to address is, why rebalance World Wonders? As you'll know World Wonders is our oldest endgame. It lacks a lot of the newer UI changes we introduced with Domination, and continued with Olympus. We'd like to modernize World Wonders, and bring the visuals inline with the other two. The endgame also had some issues with known exploits which, for example, artificially delay the start of the World Wonders era, or prologue the post-endgame period, and weaken the game experience. We want to fix these exploits without changing or breaking the basic endgame's game loop. We want to make World Wonders more competitive. We're hoping the changes detailed below will achieve this.
So, without further ado, lets take a look at the broad topics we will address in this rebalancing:
Start/End time

To simplify the endgame start time, we will align the start of the World Wonders Era trigger point to be mechanically similar to Domination and Olympus endgames. What does this mean? It means we will trigger World Wonders era after a pre-determined amount of time based on the world's speed. Below you can see a table which details when WWs will begin on various speeds:
| Game speed | Endgame speed Slow | Endgame speed Regular | Endgame speed Fast |
| --- | --- | --- | --- |
| 1 | 365 | 274 | 183 |
| 2 | 310 | 233 | 156 |
| 3 | 256 | 192 | 128 |
| 4 | 201 | 151 | 101 |
| 5 | 146 | 110 | 73 |
| 6 | 91 | 69 | 46 |
To give a specific example, a fairly common world setting would be Speed 3, Regular speed endgame. This world would start the World Wonders era after 192 days, or, a little over 6 months.
Another change we're making is when the endgame counter starts. As soon as the first alliance has finished building 4 of 7 World Wonders, the world's endgame counter will begin. Once a world's endgame counter reaches 0, the world will enter a period of 14 days Peacetime. Once the peacetime expires, the world will close. This is very similar to the end condition of Domination and Olympus worlds, and is one of the more significant mechanical changes implemented with this rebalance. Below you can see another table showing the values of the time given once the world is won.
| Game Speed | Duration |
| --- | --- |
| 1 | 60 |
| 2 | 51 |
| 3 | 42 |
| 4 | 33 |
| 5 | 24 |
| 6 | 15 |
We're hoping this should still give players and alliances a chance to finish the 7 World Wonders, and have some back and forth battles to that goal. We know this will most likely mean that players can't pass around the level 10 Wonders, meaning that lots of alliances unlock the Master of the World award. For clarity, this is intended. We understand these changes are very significant, and, we also understand that its possible we need to adjust these values, so please let us know in the comments.
In a breaking from the norm set by Domination and Olympus, once an alliance reaches 4 of 7 World Wonders, this is the point at which the World is considered 'won', however, the endgame continues for the remainder of the world's time, and the Artifacts will be given out based on the ranking once the endgame timer ends. This means the period between the world being won and the world's end should remain competitive, as alliances try to secure a spot in the top 3. More on ranking later!
Fixed World Sizes
With the implementation of Olympus, we also rewrote some of the code which is used to decide how worlds are distributed. For both World Wonders and Domination, the large islands on worlds are progressively unlocked based on an algorithm. On Olympus, the number of islands which are unlocked is fixed and predefined. In short, we will apply this same system to both Domination and World Wonders worlds going forward. This change should drive competition on these worlds, as well as preventing players from settling in far away oceans away from the action. We'll start using this as the default setting for all worlds once the first new WW worlds have been released on live.
Endgame Ranking
As a part of the Artifacts overhaul, we also introduced a way for players not in the winning alliance to snag something for their efforts. For both Domination and Olympus, we have a ranking which is used to determine who wins these levels. World Wonders on the other hand doesn't have a ranking as clearly defined, and is not displayed anywhere in the UI. With the World Wonders rebalance, we're adding a ranking system. The ranking is based on the Wonders levels. Each completed Wonder level gives it's level's value to the alliance's ranking. To give an example:
An alliance has 1 World wonder on level 9, 1 on level 5, and 1 on level 1.
The level 9 Wonder gives 45 points (1+2+3+4+5+6+7+8+9)
The level 5 Wonder gives 15 points (1+2+3+4+5)
The level 1 Wonder gives 1 point
This alliance's total ranking will then be 61 points. The keen eyed players might notice this could mean that the alliance which gets to 4/7 Wonders first doesn't necessarily have the most points. To counteract this, the alliance on the world which achieves the feat of finishing 4 of 7 Wonders first is awarded 400 points! This means this alliance will win first place regardless of the performance of other alliances. Once the first 4 Wonders are complete, it becomes a race to finish the remaining Wonders, and win 2nd and 3rd places! Endgame ranking is used to determine which alliance wins artifact levels. In the event of a tie, the system falls back to the world's rankings.
UI Changes
As mentioned earlier, there are a number of changes we'll be making to the game's UI relating to World Wonders. These changes are mostly aligning the endgame with Domination and Olympus, adding some nice new features which will improve the overall experience of the endgame for alliances.
Endgame Menu Entry. A small but meaningful change, we've added a World Wonders entry point to the menu on the left side of the game.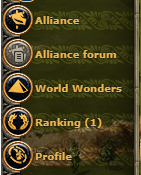 Ranking Tab. Clicking on this new menu entry will give players access to a new tab, the Ranking tab. This tab will remain inactive until the Era of the World Wonders has started, but will be the default tab once it begins. The ranking tab works very similarly to the same tab in Domination and Olympus, but, has some added functionality, as clicking on an alliance's wonder in the list will move your map to that point. Hovering over a Wonder's level also gives you a tooltip with coordinates. Lastly, there is also a column which shows how many wonders are needed for an alliance to win the world.
World Wonder Sites Overview. A new tab has been added to the Alliance screen showing the list of all islands your alliance has. This list also shows how many cities are your own, how many are occupied by your alliance, how spots are occupied, and how many free spots there are, either as anchors or ghost cities. This overview should help in the early stages of the endgame to quickly identify where you would be best to strategically place a World Wonder.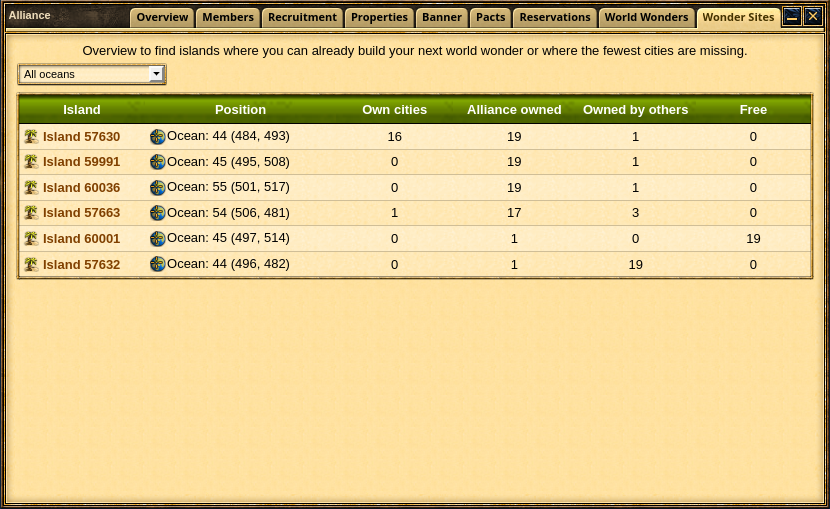 World Wonder Icons on Strategic Map. Another small change is we've added icons to the strategic map which will show players the location of world wonders in this view. Another visual feature we hope will help alliances to strategize better.
New Reports & Popup Screens
To help you and your alliance out even more, we're adding a batch of new reports and popup screens to the game which will be triggered by various actions during the endgame phase. These will help you to keep track of both your alliance's, as well as other alliances progress towards winning the world. Specifically, you will be notified via a popup when:
The Era of the World Wonders begins
Alliance completes level 10 of a World Wonder
Wonder you own is reduced in level or destroyed.
Wonder you don't own is reduced from level 10 to level 9.

The world has been won (4 of 7 Wonders completed to level 10)

Alliance completes 7 World Wonders.
The world has ended.
Additionally, you'll also receive a report when:
Alliance completes level 10 of a World Wonder

Wonder you own is reduced in level or destroyed.
Wonder you don't own is reduced from level 10 to level 9.
Own Wonder level is increased.

The world has been won (4 of 7 Wonders completed to level 10)

Alliance completes 7 World Wonders.
Level 10 World Wonder Cooldown
The last topic on today's (lengthy, thanks for sticking with us) post, is the new cooldown mechanic for completed world wonders. This cooldown is triggered in the event that an alliance's world wonder is downgraded from level 10 to level 9. This cooldown is simple, it prevents the alliance from starting the construction of level 10 again until a predefined time has passed. This time is determined by game speed, much like the other settings described earlier, and in this case is determined by multiplying the base value by the game factor. The base value is 7 days.
| Game Speed | Game Factor | Cooldown time (days) |
| --- | --- | --- |
| 1 | 1 | 7 |
| 2 | 0.85 | 5.95 |
| 3 | 0.7 | 4.9 |
| 4 | 0.55 | 3.85 |
| 5 | 0.4 | 2.8 |
| 6 | 0.25 | 1.75 |
This new mechanic makes it imperative that you and your alliance protect your cities on your level 10 World Wonders, or risk losing the level and having to wait to upgrade. And remember, the whole world will be notified in the event one of your level 10 wonders is downgraded to level 9. Once the cooldown has expired, alliance leaders can once again start the construction of level 10.
Closing words
I'm sure you'll all agree, that was a lot of information all at once. We wanted to write it up like this, rather than drip feeding over the course of several posts, so forgive us for the length of this post. We're eagerly awaiting your comments, both good and bad, so we can review the feedback, and see what needs to change based on it. As already mentioned, we'd love this to be ready for live release in the new year, but not before we think its ready. Releasing a Beta world now is already important, as it helps us all to understand the endgame more fully than just reading some text from a screen.
As always, keep your eyes on the Beta forums for the announcement relating to the new world, as well as a detailed announcement which will include a lot of the information I've shared above.
Thanks for your attention, looking forward to reading your comments.
Richard
Community Management Specialist – Grepolis