Wow, it's already been two months since my last article here … time to show you some more stuff we are currently working on.
First, about showing different city states more graphically on the map, namely:
cities during  noob protection
other cities you recently (in the last 12h?) attacked – so you know which cities you already farmed and don't have to check the reports over and over
your own cities that got attacked recently
own cities in revolt / under siege (2 states for revolt, 1 state for siege)
No worries, these won't be animated to not cause performance issues. It's just a small visual hint to save you some clicks.
The second thing we also thought about are the tooltips on the island map:
Right now, if you hover a city on the map, you don't get that much information, only:
city name
player name
city points
alliance name
city reservations
Even with your own cities, you don't see anything else, you always have to select a city to be able to see more details. So we were brainstorming what kind of information should be visible there? Our ideas so far include:
Beginners protection (with end time) – you currently only see that as a tooltip on the attack button, it would be way more convenient to see that directly on all cities
The name of the city group the city is in (if you have the advisor enabled)
If the city is currently in revolt / being conquered (maybe with end times)
Attacks on their way
Incoming support
Own troops (maybe even supporting troops, combined or seperately listed) in the city summed up as defense values, so you can see in a glance if you are e.g. lacking defense vs ranged or sharp
Number of fireships in that city (extra, because they don't have a sea defense value)
As an example we have prepared a "worst-case-scenario" with a lot of information we could imagine being useful there. Of course only for your own cities!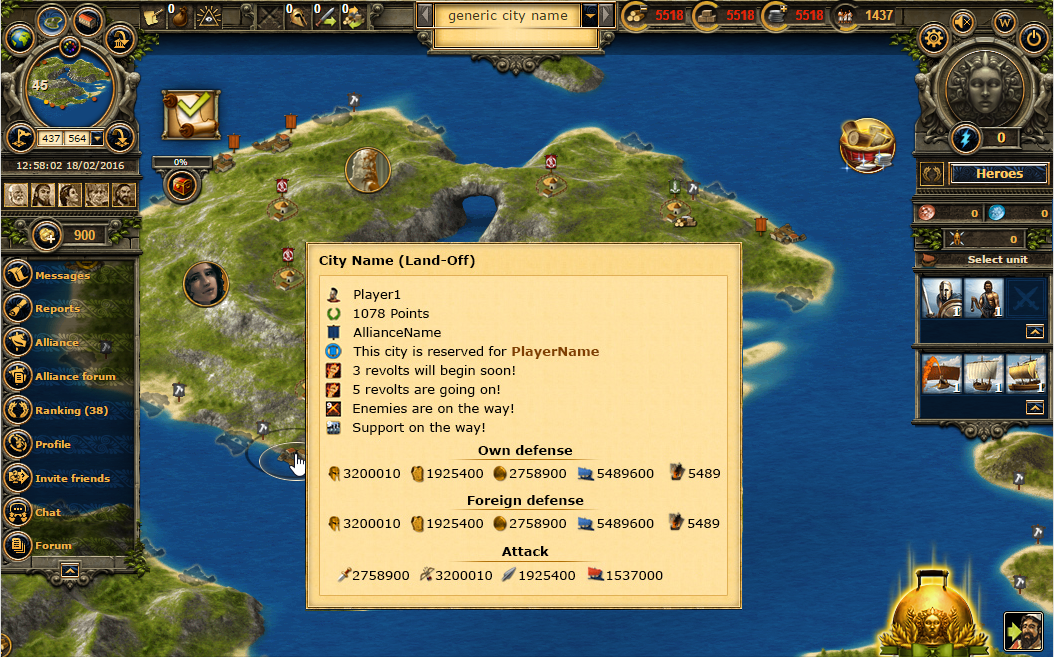 What are your thoughts? What should we show, what would be a nice addition and what is a no-go? And if we show the fight values, would you rather like to see the sum of all base values (this would be enough to quickly figure out in which defense type you are good/bad) or the exactly calculated value with all the modifiers like research, tower, heroes, spells, …?